This year the AIPPI World Congress was held in Milan, fashion, design, art and innovation capital.  Singapore was represented by a 16-strong IP Practitioner contingent. It was my first AIPPI World Congress and I had to do a double take when I entered the Exhibition and Hospitality Hall at the Milano congress (MiCo). Was I at the right place? Even a non-car enthusiast like me was impressed! Buongiorno Milano J This IP conference was continuing to impress its differentiation on me.
Back track a few months to where my AIPPI World Congress 2016 experience began in Singapore. It was in April 2016 when the Singapore AIPPI National Group called for volunteers to formulate responses for the2016 Study Questions. I volunteered to undertake the Study Question on "Requirements for Protection for Designs", while my fellow Singapore IP Practitioners, Winnie Tham, Susanna Leong and Gilbert Leong undertook the papers on "Added Matter The Standard For Determining Adequate Support For Amendments", "Linking and Making Available on the Internet" and "Security Interest Over Intellectual Property" respectively.
Before submitting our respective papers, the Singapore AIPPI National group members got together to review our contributions through energetic and lively discussions that went late into the evening. Tony Yeo, president of AIPPI Singapore, led the discussions and ensured there was sufficient "makan" to fuel the discussions. It was great to see and experience such strong commitment and passion for IP and Singapore among our national group members.
For the benefit of those unfamiliar with the working methods of AIPPI, each year 4 sets of questions are set and each national group contributes responses based on national laws. The responses of all the member countries are then collated and a draft resolution prepared for delegates to debate and agree broadly on how IP laws and policies can evolve to address the entire creator and consumer value chain. These draft resolutions are then sent to the Executive Committee (made up of about 300 delegates from across the 100 member countries) who is the principle decision making body of AIPPI, to be passed and adopted. With these Resolutions, AIPPI has a major influence on the development of international IP Law liaising with WIPO, WTO and all important international Governmental and Non-Governmental Organizations promoting mutual coordination and cooperation in improving and harmonizing IP laws.
My first day at the Congress was spent at the Design Study Committee meeting. At least 35 countries were represented and the grueling task of finalizing a resolution by 4pm commenced at 9am. At times I felt we were getting nowhere as we could not reach a consensus on even particular phrases and words. On one occasion we spent more than an hour on a 6-line paragraph. For me it was especially inspiring to see and hear representatives from non –English speaking countries making sure their opinions were heard on the English phrases and wordings used in the resolution. They were usually correct in their comments on the accuracy of the meaning of these phrases and words. It was their passion in IP that drove them to such meticulous examination of every word.
Later that afternoon thanks to Tony Yeo's encouragement and arrangement that all delegates of the Singapore contingent take part in the voting sessions by the Executive Committee of the Congress, I attended my first Executive Committee session. Similar to UN conventions we were seated according to our countries. Draft resolutions were put forward to be voted upon using electronic tokens. Our vote counted to chart a difference in the field of IP. The session though serious was interjected by witty inter country banter to lighten the mood.
"You may have the universe if I may have Italy" – Giuseppe Verdi. With the larger than life artistic digital show of Italian art, culture, scenery, innovation, brands, creativity, entertainment and literature at the opening ceremony, many of us could relate to Verdi! This very Italian night continued with food and wine. You could not help but experience "In Italy, they add work and life on to food and wine" – Robin Leach.
It's not always about work, and if you enjoy what you are doing you will be able to excel in it without letting your passion die off. AIPPI World Congress had successfully achieved this through the highlight of my second day of the Congress, the cultural evening at the TeatroAlla Scala.
I have been told that attending a concert at La Scala has to be on everyone's bucket list. It lived up to expectation. The historical building was awe inspiring and the Filarmonica Della Scala conducted by the world renowned Riccardo Chailly was intoxicating, overwhelming, electrifying and energizing all at the same time. La Scala was an unforgettable experience and kudos to the AIPPI Italian National group for arranging this closed door experience for us considering that tickets to La Scala are sold out months in advance.
Day 3 of my congress was very much the usual conference routine. The day went by attending Plenary Sessions and meeting with clients and friends. There was one difference that must be highlighted. Team Singapore's Lunchsession which Tony arranged when inSingapore for us to spend some time together in Milan. A table was reserved for the Singapore delegates to get together. With the help of our group chat, we navigated our way to our "Singapore" table to exchange not just conference tips and news but also favorite Singapore topics like where to shop and eat in Milan.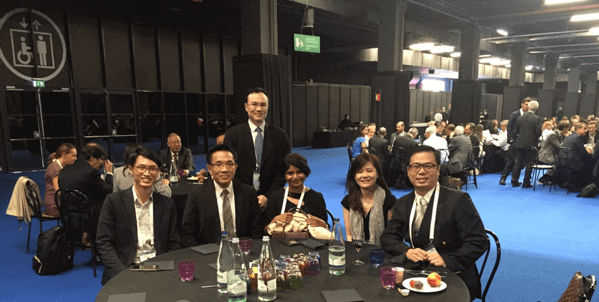 Day 4 and the final day came all too soon. It was time to say Ciao! to our friends from around the world. The hard work and serious conversations were put aside for one last meet up at the Closing Dinner, a black tie event held at the Hangar Biocca, a contemporary art space in Milan. 9500 m² with a height of about 30 metres, the building was built in the 1920s to assemble railway carriages, electric and steam locomotives, boilers, farm machinery and equipment and, during the First World War, aeroplanes, and other products for the war effort.
Good food, good wine, good music, good friends to have great conversations and share great memories with in a unique venue. One can't ask for more!
My takeaway from the Milano AIPPI world congress 2016 was that AIPPI as an organization is one that relies on each of its members to help achieve its goals. Contributing and making your voice heard is accessible to every AIPPI member and more importantly welcomed by the organization.
For IP practitioners in Singapore who have yet to attend an AIPPI World Congress event or for members of the public interested in making a difference to IP laws and policies or just wanting to learn more about IP, AIPPI may be the organization for youto get involved in and the World Congress an event to consider attending.
Getting involved in AIPPI is easy. Join our active and vibrant national group which is led by Tony Yeo and his leadership team members (Regina Quek, Adrian Ee and Gilbert Leong). The leadership team are always keen to ensure its members are kept informed and they areencouraging and welcoming of everyone being involved in projects. You will find the culture of our meet up sessions warm and inclusive and its certainly not all serious talk.
Back in Singapore, I am already looking forward to AIPPI World Congress 2017 which will take place in Sydney from 13 to 17 October.aippi2017.orgis the official website for registration which opens in April 2017.if you are not a member of the AIPPI Singapore group, contact Adrian Ee, secretary of the Group, at:
Email: adrian_ee(at)ramdwong.com.sg
Tel:  (65) 6324-9154 to know more on how to join us and get involved.